MANAŽMENT PODNIKOV MANAGEMENT OF COMPANIES 2/2013

OBSAH:
INFORMATION ABOUT THE DEPARTMENT OF INDUSTRIAL ENGINEERING AND MANAGEMENT
Information about the project VEGA 1/0102/11 methods and techniques of experimental modeling of in-plant manufacturing and non-manufacturing processes
PETER TREBUŇA
APPLICATION OF THE MATHEMATICAL STATISTICS METHODS IN PROCESS MODELING
PETER TREBUŇA, JANA HALČINOVÁ
PLM AND ITS BENEFITS AND USE IN THE MANAGEMENT OF COMPLEX BUSINESS ACTIVITIES IN THE PLANNING AND OPTIMIZATION OF PRODUCTION ACTIVITIES
PETER TREBUŇA, MAREK KLIMENT, JAROSLAV MARKOVIČ
IMPORTANCE OF PLANNING AS A CORE FUNCTION OF STRATEGIC MANAGEMENT
JOZEF MIHOK, JAROSLAV MARKOVIČ
ESTIMATION OF THE DISTRIBUTION FUNCTION IN THE CONCEPT OF RISK MINIMIZATION PROJECTS
MONIKA FEDORČÁKOVÁ
CONTRIBUTION TO THE CREATION OF THE MODEL WAREHOUSE MANAGEMENT IN THE COMPANY
MILAN FIĽO, MIRIAM PEKARČÍKOVÁ
MODELLING OF DYNAMIC SYSTEMS WITH ONE DEGREE OF FREEDOM IN SIMMECHANICS
PETER FRANKOVSKÝ, DARINA HRONCOVÁ
REVIEW OF THE DEPENDENCE VARIABLES AS TOOLS FOR THE PRODUCTION MANUFACTURING AND NON-MANUFACTURING PROCESSES
GABRIELA IŽARÍKOVÁ
EVALUATION OF WORKING POSTURES AND ACTIONS DURING THE WORK TASK METHOD OWAS
JOZEF KOVÁČ, JANA ČUCHRANOVÁ
CREATION PHYSICAL MODELS OF THE SPATIAL STRUCTURES OF PRODUCTION SYSTEMS
JURAJ KOVÁČ
USE OF LEAN PRINCIPLES IN PRODUCTION ENTERPRISE
ANDREA KRAUSZOVÁ, EDITA SZOMBATHYOVÁ
INNOVATIVE MANAGEMENT METHODS OF REDUCTION IN INVENTORIES
MIROSLAV MALÁK
CONTRIBUTION TO THE PROCESS FORMULATION OF THE MATERIAL STANDARD
MIRIAM PEKARČÍKOVÁ
THE LOGISTICS INFORMATION SYSTEM IN THE CONTEXT OF CORPORATE LOGISTICS STRATEGY
PETRIKOVÁ, A. - KOVÁČ, J.
EXPERIMENTAL MODELLING IN THE DESIGN PROCESS OF FLEXIBLE PRODUCTION STRUCTURES BASED ON MODULARITY RUDY
VLADIMÍR, LEŠKOVÁ ANDREA
BASIC ASSUMPTIONS OF SEARCHING FOR ECONOMICALLY CONVENIENT DISASSEMBLY FOR RECYCLING PURPOSES
JURAJ ŠEBO
MODELING IN DESIGN OF MODULAR MANUFACTURING WORKPLACES - PLM MODULAR SYSTEM TECHNOMATIX
VLADIMÍR RUDY, JÁN ŠESTÁK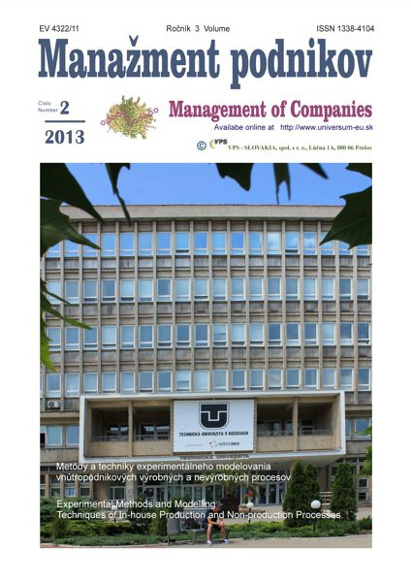 Generálny reklamný partner: UNIVERSUM-EU, spol. s r. o.

Vydavateľ / Publishing: VPS - SLOVAKIA, spol. s r.o., Lúčna 1A, 080 06 Prešov, Slovenská republika
IČO: 36457256, IČ DPH: SK2020011697 Obch. reg. Okr. súdu PO, vložka 11334/P
+421517765330, +421905596201, vpsslovakia@vpsslovakia.sk http://www.vpsslovakia.sk
Číslo účtu / Account number: 2627729574
Kód banky 1100 Tatra banka, a.s. pobočka Prešov
IBAN: SK84 1100 0000 0026 2772 9574
Swiftový kód: TATRSKBX
Variabilný symbol /variable symbol VS 113500
Konštantný symbol / Constant symbol KS 0008
Vedecký časopis: MANAŽMENT PODNIKOV - Management of Companies, EV 4322/11 ISSN 1338-4104

1. Technické uskutočnenie a dodanie: Podľa zadania a technických podmienok:
2. Predajná cena za jeden kus
- Tlačená papierové forma – pre organizácie 150 €
– pre jednotlivcov 30 €
- CD forma – pre organizácie 90 € – pre jednotlivcov 15 €
- E-mailová forma, pdf. – pre organizácie 70 €
– pre jednotlivcov 9,- €
3. Záruky: Záruky poskytujeme za spracovanie, výrobno-technologické a materiálové uskutočnenie.
4. Spôsob dodania vedeckého časopisu: Po obdŕžaní príslušnej sumy na horeuvedený účet do 7 – 21 dní.
5. Doplnky a zmeny:podľa vzájomne odsúhlasenej dohody.
6. Platnosť ponuky: do 31. 12. 2013
The Scientific journal: MANAŽMENT PODNIKOV - Management of Companies, EV 4322/11 ISSN 1338-4104. Thank you for your interest in our product and we are pleased to present you with our offer.
1st Terms and conditions: According to instructions and technical requirements:
2nd The selling price for one issue /including 20% VAT/
- Printed journals – for organisations € 150 – for individuals € 30
- Journals on CD-ROM – for organisations € 90 – for individuals € 15
- PDF-format sent by e-mail – for organisations € 70 – for individuals € 9
3rd Guarantee: We provide a guarantee for processing, manufacturing processes and material accomplishment.
4th Delivery: 7 – 21 days after receiving payment to the above mentioned account.
5th Additions and changes: by mutual agreement.
6th Offer validity: until 31 December 2013